A little History:
The TEACH Construction Initiative was conceived by Michael Smith when he was the Director of the Colorado Homebuilding Academy.  As the Academy's success grew, people took note and wanted to know what was their "secret sauce" – Michael always said it's not a secret…we will share all we have.  That mindset grew into an idea and the idea grew into a product called TEACH.  At first it was an acronym – Technical Education Assistance for Careers in Homebuilding.   We no longer use the acronym – but still use caps for the word TEACH.  
Michael departed the Academy in August of 2018 to focus solely on expanding the reach of TEACH.  He founded the new Social Enterprise Building Workforce Solutions, L3C , and TEACH is a division of that entity.  The Colorado Homebuilding Academy played a substantial role in the development of TEACH and still supports the Instructional Resources Library by contributing their training content.   For that support the Academy will always be considered a Founding Member of the Initiative. 
In addition to supporting Schools, Colleges, and Work-based Learning Programs TEACH is hard at work building partnerships with Industry to support the growth of our training resources.   We have a team devoted to creating trade specific training content starting with the painting industry.  The Painting and Decorating Contractors of America (PDCA) and Benjamin Moore have partnered with us to bring jointly created resources to the training public. 
Building Workforce Solutions, L3C has 2 other divisions to support the work of TEACH – A software development division and a consulting/deployment division.  The software team is launching a job placement app that focuses on skills based hiring (TradeSkillsMatch.com), a new digital credentialing system, and an app designed to support employer training programs.   
It is important to note that TEACH Construction focuses on creating curriculum, and the related Instructional Resources, for the teaching of basic to intermediate skills in construction. There are lots of great Apprentice programs out there and many specialty training programs that are going a great job, we are not trying to replace them.   But we found a major void in the educational arena of quality training tools for the introduction to the trades level, and those that we did find are relatively expensive.   So, we decided to change that and provide all of these tools for free to the professional instruction community as out part to build the construction workforce.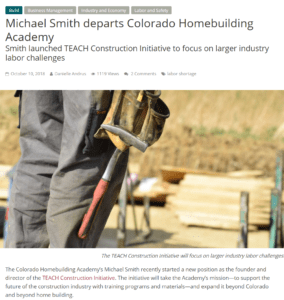 Read the Colorado Builder magazine article about Michael leaving the Homebuilding Academy to start TEACH Construction.