The 21st century student deserves a credential designed for the 21st century workforce.
TEACH Construction/TradeSkillsU.com is proud to be a partner of the Building Credentials for Construction Network and thus an authorized issuer of the BCC Badges.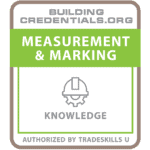 Our TradeSkillsU.com and affiliate learning portals are directly connected to the BCC Credential server.  When a student on our learning portal demonstrates their Knowledge by successfully passing the online tests the BCC Credential Server is automatically updated.   When the student demonstrates mastery in all the competencies listed for a Knowledge Badge or Skill badge the teacher is notified that a badge is pending and will await your approval before being issued.
If you partner with TEACH Construction, you have the choice to include BCC Digital Badging or not – it is not a requirement.
What is a Digital Badge anyway
A digital badge is an electronic indicator of an accomplishment that can be displayed and verified online
These badges are much more than that a simple image – they contain data specific to the badge and the recipient.